Maximize Every Minute
Introducing CV41 and CV61, the next generation of Intermec vehicle mount computers designed to maximize the efficiency of your forklift fleet. Both products feature a rugged design, the latest high performance computing hardware, and full Vocollect certification—so you can immediately capture the proven productivity, accuracy, and safety benefits of voice-directed work.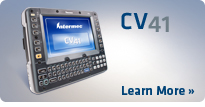 A Balance of Size, Performance & Flexibility
An 8" (20cm) vehicle-mount computer providing the ideal balance of operator usability, application performance, and ease of deployment and maintenance—all of which leads to improved forklift operator performance and gives you a true business edge.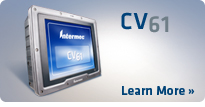 Upgrading Made Easy
A 12.1" (30.7cm) vehicle-mount computer combining next generation technology with a smart design that makes it easy to migrate from legacy products. Includes full PC functionality running Windows 7 Professional or XP Professional, a 1.8 GHz Intel Atom CPU and 3GB RAM.